---
The -A-Team Presents Dakotapalooza
Dakota Ann's First Birthday –
Help baby Dakota fight Acute Infantile B-ALL Leukemia
#TinyButMighty
Saturday, October 5, 2019
1:00 PM to 6:00 PM
St. Michael's Picnic Grounds
400 Jacobs St.
Mont Clare, PA 19453
---
The -A-Team Presents EllapaZOOla
Please join the A-Team in raising money for Ella Smith's fight against cancer
Sunday, November 4, 2018
12 PM – 5 PM
Elmwood Park Zoo
---
The -A-Team's Night
to help The Angels FIGHT!
Wednesday, June 27, 2018
7 PM – 9 PM
The Dutch Cottage Tavern
---
Jamie Michael Burns
Prostate Cancer Ride
"Live Like You're Dying"
Sunday, April 29th, 2018
11 AM to 1:30 PM
From the 19th Hole at Swamp Pike Pub
to the Trappe Tavern

---
LilyPalooza
Sunday, August 27, 2017
St Michael Park
400 Jacob St, Mont Clare, PA 19453
Lilyanna Pagnotta "Lily" is a beautiful little girl who just finished Kindergarten. She also just finished her first two rounds of chemo and is starting her 3rd of 5. Lilyanna woke up one day with a lump on her neck just this past January. A few months later in May she was diagnosed with stage 4 Hodgkins Lymphoma.
We are calling on anyone out here that agrees with us that no child should have to fight cancer and no parent should have to feel alone as their baby is suffering through the horrendous treatments and all that comes with it.
Please join us to show our "Love for Lily" and raise some funds for this precious Angel. Attendees can enjoy a variety of beverages (soda, water and beer for 21+), great food, Moon-bounces, face-painting, balloon-characters, HUGE basket raffle, real life princess costumed characters, live bands, DJ, bubbles, an MC ride to the event, and fire-works at our closing.
---
Heyyyy Bobby!
Sunday, April 30, 2017
The Trappe Tavern
416 West Main St., Trappe, Pa 19426
---

Operation Pink-Out – Jaime Cherry-Kline
Saturday, January 21, 2017
Collegeville Italian Bakery
3846 W Ridge Pike, Collegeville, PA 19426
---
Operation Pink-Out
Saturday, October 8, 2016
Bridgeport Rib House
1049 Ford Street, Bridgeport, PA 19405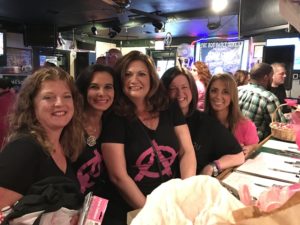 ---